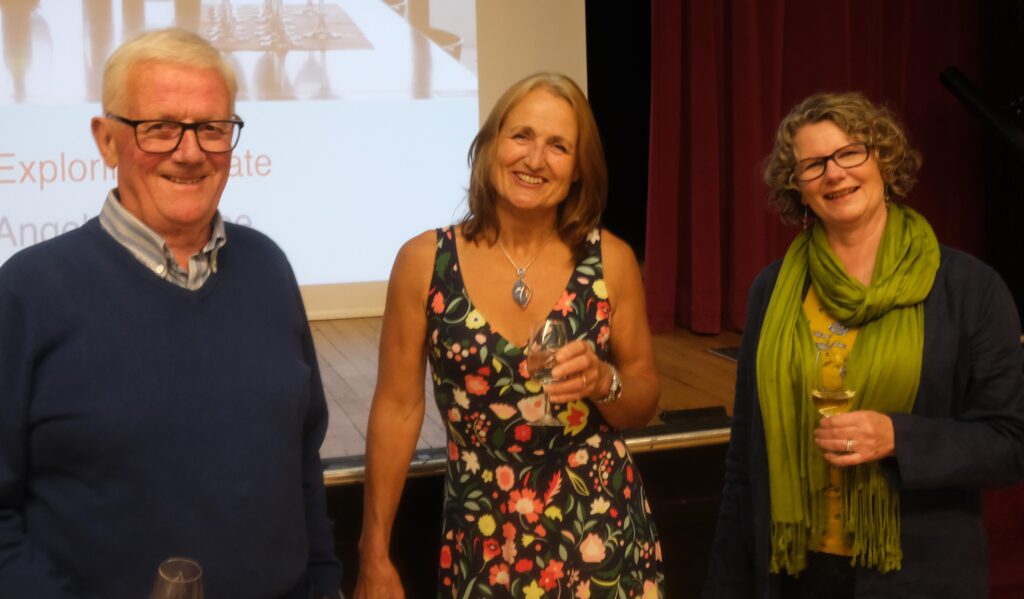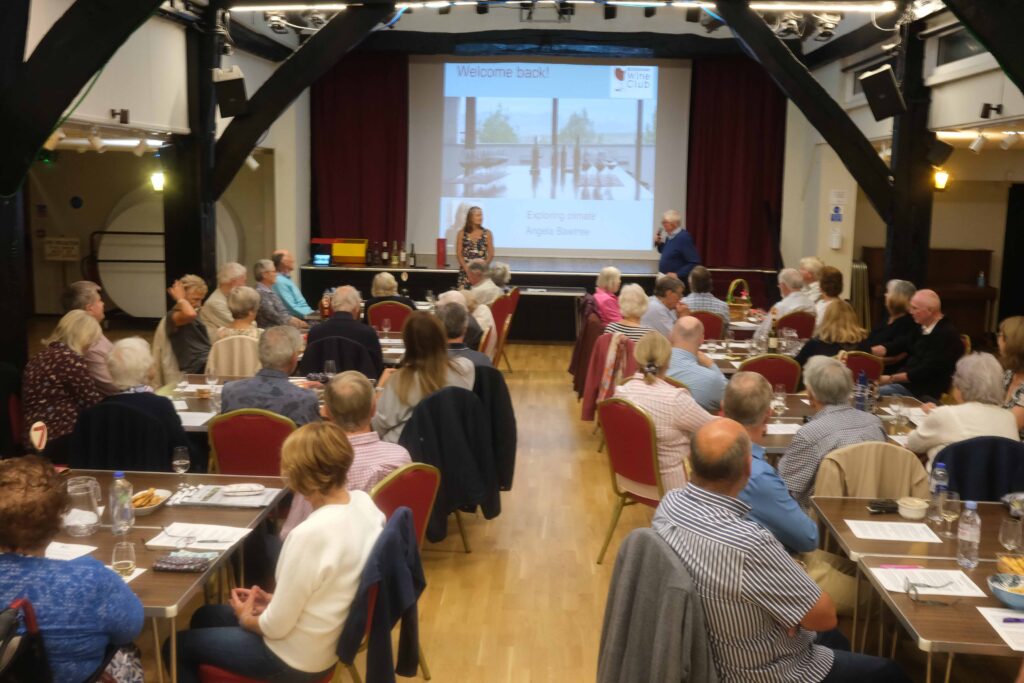 Our eagerly awaited return to the Barn Hall couldn't have started in better hands. After a glass of crémant to celebrate the occasion, members settled down to enjoy their first fact-to-face professional presentation in eighteen months. Angela Bawtree is one of the Club's favourite wine educators and, for her fourth visit, she had chosen two grape varietals to illustrate the impact that climate change is having on some of our most popular wines.
We began with Sauvignon blanc, an aromatic grape, dry with high acidity and selected by Angela for its versatility. Whilst the Sauvignon grape is grown all around the world today, including cooler spots in the USA, it would have been remiss not to include a wine from the country of its origin, France.
Domaine Henry Pelle Menetou-Salon Morogues (13.5%, 2018). This wine from the Loire is made from grapes grown in Kimmeridgian limestone-clay marl soil, usually associated with Chablis, which imparts elegant mineral tones. Fermentation occurs in stainless steel using indigenous yeast after whole bunch pressing (to maintain the purity of the fruit) and use of fine leas provides added texture. Compared to the usual wine from this region, this wine offers something a little 'riper' with lovely fruity and floral characteristics.
Dog Point Marlborough, New Zealand (13%). When thinking about Sauvignon Blanc, New Zealand is the country that often springs to mind and the climate is actually similar to that of the Eastern Loire, albeit with higher levels of UV radiation as a result of the loss in the ozone layer 'down under'. On tasting, members agreed with Angela; the somewhat flinty, apple and lemon-laden palate with only a hint of gooseberry on the nose was not what we expected from a Marlborough Sauvignon Blanc, but we liked it! Formerly of Cloudy Bay, the viticulturist and winemaker have used reductive wine-making techniques to reduce the oxygen interaction as much as possible.
Waterkloof Circumstance Stellenbosch, South Africa (13.5%, 2019). This wine won the vote for best white wine of the evening. Often referred to as the Pouilly-Fumé of Stellenbosch, this was yet another wine that surprised because of its non-traditional but classy fruity finish. Made using organic and biodynamic processes, the producers of this wine embrace oxygen with a long 6-month fermentation followed by 3 months on the lees and a light filtration. Fun fact: this vineyard farms earthworms and uses their casts to make tea to fertilise the soil!
For our red wine varietal, Angela had chosen Pinot Noir, which she described as a very fussy grape only willing to grow in particular environments (average temperature range 14-16°C) and prone to disease, as a result of its thin skin. Whilst few places are suitable for growing, newer entrants to the Pinot Noir field, including New Zealand and Tasmania, are excelling. However, our first wine comes from France, the classic home of the Pinot Noir grape.
Le Versant Languedoc (12.5%). Whilst not a natural area for the grape, the region has a myriad of micro-climates and the grapes used in this COOP produced wine are grown on north-facing slopes to minimise any chance of over-ripening. This was a very pleasant wine with aromas of cherries and wild strawberries, and a fruity, smooth palate with smoky and minty hints.
Koyle Costa Rapel Valley, Chile (14%, 2016). Made using biodynamic production methods and carbonic maceration (the technique often used in Beaujolais) to create an anaerobic atmosphere early in the fermentation process, this wine displays a typical Pinot earthiness and was ripe, beetrooty and meaty.
Wild Earth Central Otago, New Zealand (13.5%, 2016). The vineyard was established in 1998, the first vintage produced in 2004 and the 2006 vintage won the trophy for best red wine and best Pinot Noir! According to Angela, this is probably one of the most successful regions for Pinot Noir outside Burgundy. Not surprisingly, this was a lovely wine which also benefits from ageing in French oak barrels and, your author would argue, deservedly won the vote for best red wine of the evening. An elegant red with red and black berry, wild herb and earthy flavours, it is also a wine that will age well.