We were again lucky with the weather, and we enjoyed some good sunshine with our September wines.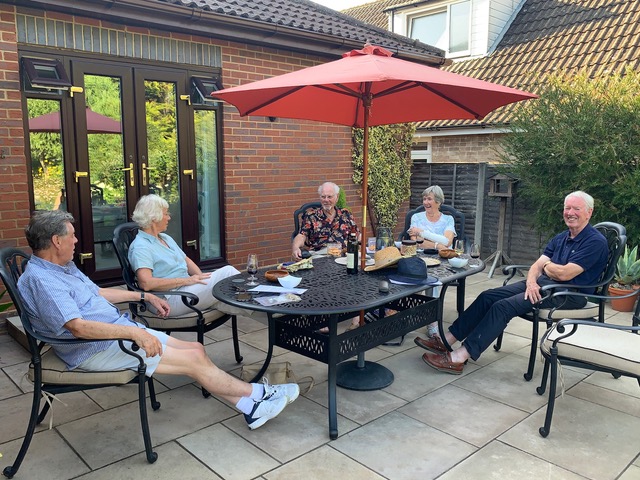 This time, the wines were specially selected by Laithwaites, who have a friendly and helpful shop beside the river in Surbiton. The wines were:
Roche Lacour Cremant de Limoux 2018 12.5% (£14.99)
A Chardonnay based blend enhanced with Pinot Noir and Chenin. Generous creamy flavours of ripe peach and citrus zest. This wine uses Champagne's methode traditionelle, and nearly half the wine is oak fermented. The wine was liked in all gardens, and many found the special offer price to members ordering through the club irresistible.
Chablis: Robert Nicolle 2018 12.5% (£16.99)
Crisp, appley and punctuated with a steely mineral edge, Domaine de la Mandeliere is a Chablis from a region with an illustrious reputation. It is the creation of Robert and Josette Nicolle, who carefully nurture their wines from bud-break to bottle to achieve the most authentic expression of terroir. Members noticed the apple notes and generally liked the wine, though some felt that it fell a little short of the best of Chablis. However, at the incredible club price it was a good value, enjoyable wine.
Collezione Di Paulo Chiante Riserva 2016 13.5% (£13.99)
Chianti is one of Italy's great classic reds, free now from its old image of plonk in a raffia bottle. Riserva denotes a superior wine with ageing. The grape is, of course, sangiovese, and it was aged in oak barrels for 14 months to give a rich and complex flavour. This was greatly enjoyed, especially at the offer price.
Voting was too close to decide whether the Cremant or the Chiante was the favourite, and the purchase figures were similarly balanced. However, as the total of our purchases was over £500 at discounted prices, this was obviously a popular event.
The raffle prize in each garden was a bottle from Laithwaite's bin end selection – available in store at an excellent price.