This was Marta's second visit to our Club and what a wonderful evening we all had. Home to many indigenous grape varieties, Portugal offers a range of interesting wines; a number of which Marta had selected for us to try.
In customary fashion, we began with the whites and the Azulejo Light White, Lisboa (9.5%, 2018) affectionally referred to as Marta's "fun wine" because of its natural bubbles and light, fresh and easy drinking style. The grapes are harvested young and, like a vinho verde, have less sugars resulting in a wine with good levels of acidity and a lower alcohol content. This wine went down very well with members, so it wasn't a surprise when it won the vote for "white wine of the month" at the end of the presentation.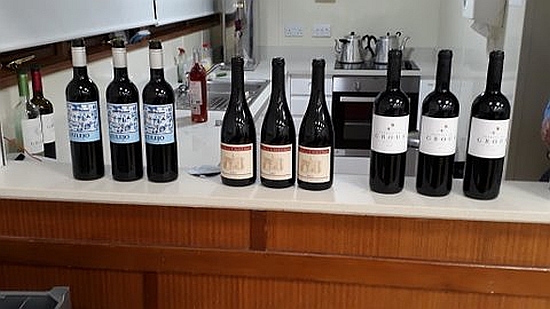 Our second white, UIVO Alvarinho White, Douro (12.5%, 2018) hails from the oldest mountain vinery in the World, where the grapes are grown at the top on granite/stony soils and the resulting product has a tart, gooseberry finish, characteristic of a mountain style wine. This particular producer employs high-end wine making techniques, with the lowest intervention possible. The prolonged fermentation gives this wine a good amount of complexity and would pair well with fish and shellfish dishes.
The final white of the evening was the Este Rose Vinho Verde (11%, 2017) which, as the name suggests, was actually a rosé from the North of the country and one that is unique in the UK. Made from red grapes using a white wine-making process, this slightly sparkling wine is a rosé in the vinho verde style. The taste of strawberries and red apples on the palate was distinct. Enjoy as an aperitif or with a variety of foods, including; seafood, sushi, Chinese and Italian dishes.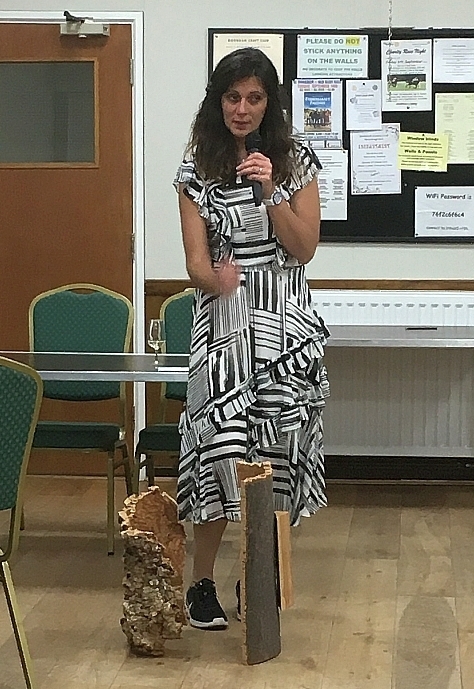 Azulejo Red, Lisboa (13%, 2017) is a wine that Marta really likes to show; it "ticks all of the boxes" with its nice level of tannins and structure and offering good value for money. A blend of Tinta Roriz (aka Tempranillo) Casteleo and Pinot Noir, the aromas are of red fruits and, as a result of 3 months in oak barrels, there is a good balance of oak. This medium bodied red wine with long finish can be enjoyed on its own or with food.
The second red, Porta dos Cavaleiros Red (13%, 2012) is a blend of 40% Touriga Nacional (the "Queen" of the red grape varietals in Portugal), 30% Alfrocheiro and 30% Aragonez hailing from the Dao region in the central part of Portugal. Here the grapes are influenced by a micro-climate of heat, from being inland, and freshness from the Atlantic. This is a modern Dao with a higher percentage of Touriga Nacional than in the past; a medium-bodied wine with well-balanced tannins and a little bit of spice and ageing potential.
The presentation concluded with a tasting of Grous Red (14%, 2017) from Alentejo, the youngest wine region in Portugal and famous for its cork and cork production. The wine, which won the vote for "red wine of the month" and "wine of the month" is a blend of 30% Alicante Bouschet, 15% Syrah, 20% Touriga Nacional and 35% Aragonez. Produced by a boutique winery, which also boasts a hotel with a reputation for good food and its premium wines, this is one of their entry-level wines! Full flavoured with deep red tones, complex aromas and a soft tannin structure it was a fabulous finish to a lively and enjoyable evening.
All wines tasted on the evening are available from Guildford Wine.