A chance meeting with a wine maker and a lack of Hungarian wines in the UK were among the circumstances which led Audrey's father to set up business importing quality wines from family producers across a number of the country's wine regions. And, like her father, Audrey has spent a great deal of time learning about Hungarian wines and wine; knowledge which she provided in a most interesting presentation. This marked Audrey's first visit to the Club and, as far as your reporter is concerned, the first 'tasting' of Hungarian wines (at least in recent years).
Probably most well-known for its Tokaji, a sweet wine favoured by Louis 14th of France that hails from an area influenced by weather from the Ukraine, Hungary actually has 22 wine regions and a volcanic terroir which benefits from many different climates. The country boasts a large home market, but this is beginning to change as producers begin to export more, particularly to Asia.
Oak provides a major difference when comparing Hungarian wines, with 99% of producers choosing to make their wines using barrels made from Hungarian oak. A much slower growing tree, ageing in Hungarian oak results in a very different flavour profile to those of wines produced in Californian or French oak. Rather than a vanilla or creamy flavour, the wine is more likely to present a flavour and aroma of dill, according to Audrey. As the coopers toast the oak to different degrees, one medium toast oak barrel can produce very different results to that of another.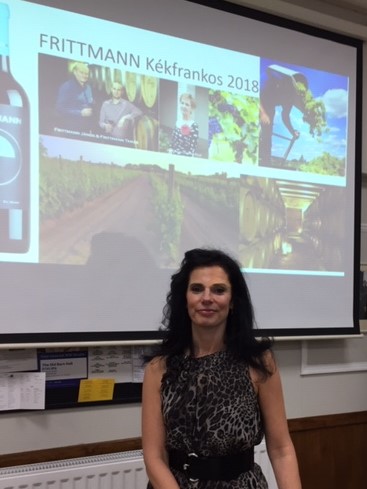 Audrey chose un-oaked and lightly oaked wines for this evening's white selection:
Szurkebarat Szeremley Badacsony (12.5%, 2016). Szurkebarat is the Hungarian name for Pinot Gris and Szeremley is the name of the family producer, based in the Badacsony region where the black basalt provides a certain smokiness to this oaked wine.
Dry Tokaji Furmint Chateau Megyer (12%, 2016). This is a food friendly non-oaked wine produced in the Tokaji region. Furmint is the country's most popular grape variety with lots of flavour profiles, but producers in this famously sweet wine producing area only began making dry wines commercially 40 years ago. This lovely fresh tasting wine won the vote for white wine of the month.
Generosa FPV Frittmann (12.5%, 2016). This wine, aged in oak for 6 months, hails from the Kunsag region in the Great Plains, a flat area with sandy soils. The Generosa grape is a cross between Ezerjo and red Traminer and is something of a rarity. Frittmann has previously been awarded Hungarian wine maker of the year but the entire family are involved in the business and FPV actually stands for "Frittmann Private Reserve".
All three red wines have seen some oak but the first very little.
Kadarka Tuske (12%, 2018). The Kadarka grape is a delicate and difficult to grow variety yet is the oldest cultivated in the Szekszard region, where this wine is produced. The producer tries to work as naturally as possible and the wine can be served a little chilled.
Kekfrankos Frittmann (12.5%, 2018). Produced from Hungary's dominant red grape variety (the Blau Frankisch grape in Austria) and aged for 7 months in Hungarian oak, this wine always has a pepperiness to it irrespective of the terroir.
Egri Bikaver (Bulls Blood) – 13%, 2016. Lengthy oak ageing produces a full-bodied red wine made from 'Bikaver', a specific blend of grape varieties from the mineral rich Eger region. Whilst this iconic wine is centred around the Kekfrankos grape, each wine maker can choose which varieties to pair with it. This food friendly red won the vote for red wine of the month, although the Frittman only narrowly missed out!