Richard Bost made a welcome return to the Club this month to present 6 modern wines from 3 very distinct wineries in Lebanon. Back in the early 1970s, Château Musar was the only Lebanese wine you could find in the UK but it's quite a different story today. The evening began with a nice overview of the history of winemaking in Lebanon; the earliest vines being planted around 7,000 BC, so the country ranks as one of the earliest wine producers in the World. Production stands at 7 million bottles per annum and the wines mostly hail from the Bekaa Valley, where the grapes enjoy a Mediterranean climate and rarely require irrigation.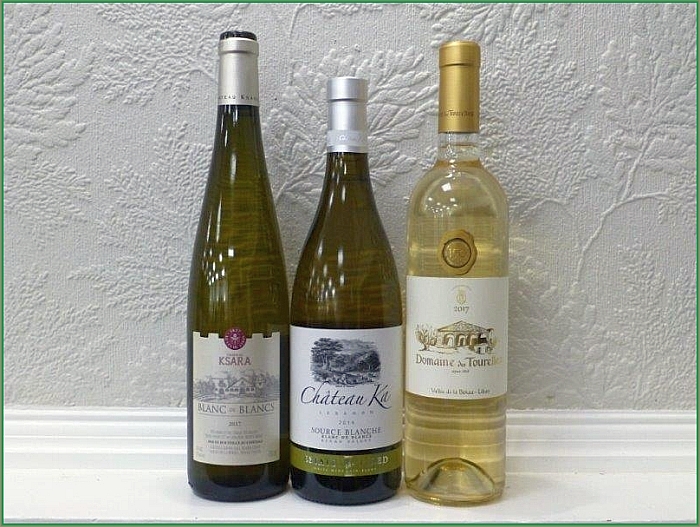 Just to be different, this write-up will feature the wines as tasted by winery, rather than order tasted. We begin with the two wines produced by Domaine Des Tourelles; a producer that has preserved the traditional methods, including the use of wooden 'basket' presses and ageing in huge concrete vats, 100s of years old. Their easy-drinking Domaine Des Tourelles White wine (2017, 13%), which actually had a slight pink 'tinge' on appearance, is a blend of 65% Viognier, 20% Chardonnay, 10% Obeid and 5% Muscat d'Alexandrie and owes its lovely aromas to the large proportion of Viognier and the Muscat. The Domaine Des Tourelles Rouge (2015, 14.5%) is a blend of 40% old vine Cabernet Sauvignon, 40% Syrah, 15% Cinsault and 5% Carignan and with its high tannin finish would pair well with strong cheeses.
Chateau Ka is the most modern winery that Richard had selected his wines from for this evening and is also one of his favourites. Founded by Akram Kassalty, the first wines were produced relatively recently in 2005 but by 2014, the company had also launched 'Beirut Beer'. Chateau Ka Source Blanche (2014, 13.5%)is a blended white wine comprising; 60% Sauvignon Blanc, 20% Viognier, 10% Muscat and 10% Chardonnay. This wine went down very well with members, winning the title of 'white wine of the month'.  Chateau Ka Source De Rouge (2015, 13%) is also a blended wine, comprising 70% Cabernet Sauvignon, 20% Syrah and 10% Merlot with 35% of the blend aged for 12 months in used French oak. This was also a delicious wine and not only won 'red wine of the month' but also 'overall wine of the month'.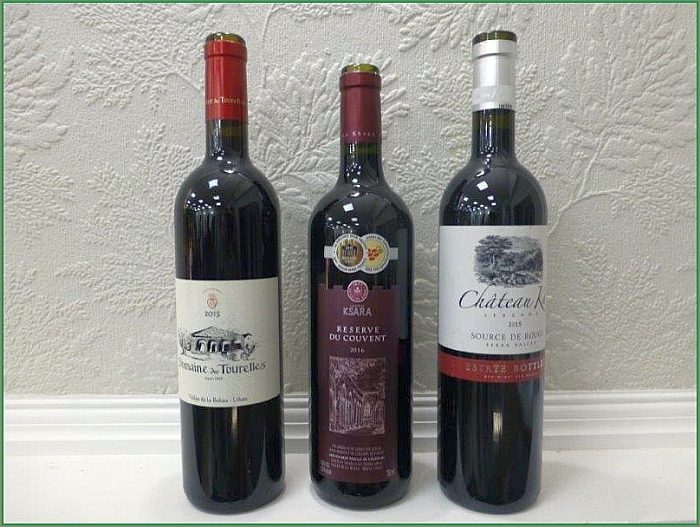 Our 5th and 6th wines hailed from Chateau Ksara, Lebanon's oldest and largest wine-maker. The Blanc De Blancs (2017, 13%) is a blend of 55% Sauvignon Blanc, 25% Semillon and 20% Chardonnay, but it is the Semillon which gives this wine its biscuity note. Chateau Ksara Reserve Du Couvent (2016, 13.5%) was a more tannic red wine compared with the Chateau Ka red; made with 40% Syrah, 30% Cabernet Sauvignon and 30% Cabernet Franc, the latter provides the 'backbone' and structure to this lovely wine. It only narrowly missed out on the vote for 'red wine of the month'.