The Languedoc is the largest and one of Pippa's favourite wine producing regions in France. An area heavily managed by the State, it outstrips all of the Australian wine regions put together in terms of production and 70% of the wine made there is red. The region has a long history of wine making, pre-dating the Roman era by six centuries but, at various times in its past, there has been pressure to grub-up indigenous varieties and/or grow specific grapes. By 2008-09, growers were being encouraged to grub-up for subsidies in an attempt to reduce the "wine lake" situation at the time, but few producers were keen to comply. At the same time, local growers were being allowed to experiment more and the increasing quality, associated with Languedoc wines of late is being driven by independent, strong-minded wine makers; particularly those who have travelled to other wine producing countries to hone their craft.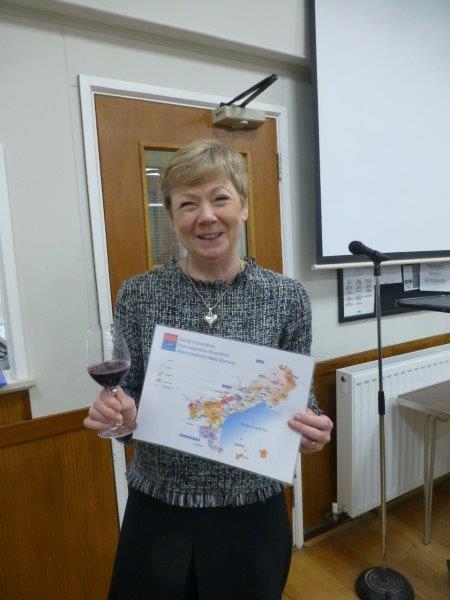 Pippa's selection of wines, all from the Wine Society, was chosen specifically with quality in mind, to provide members with just a small taster of some of Languedoc's new and improved white and red wines.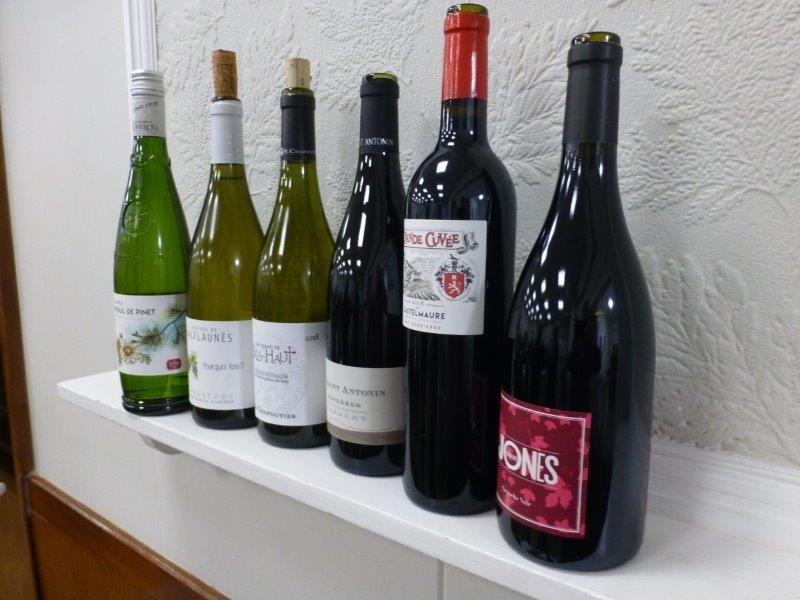 The Society's Picpoul de Pinet, Domaine Condemine Leveque (13%, 2018) Appellation D'Origine Protegee Picpoul de Pinet commissioned by the Wine Society, is 100% Picpoul. With its fresh taste and long finish, it was immensely popular with the Club's members winning the vote for "Best white of the month", as well as "Best wine of the month" at the end of the evening. A first for a white wine!
"Pourquoi Pas?" Languedoc Blanc, Chateau de Valfaunes (13.5%, 2018) Appellation D'Origine Protegee Languedoc is a white wine made in a Burgundian way and a favourite for Pippa. A blend of 60% Roussanne (for acidity), 30% Marsanne (for its buttery peachiness) and 10% Vermentino (for its acidity and herbal finish) this wine has a certain "je ne sais quoi" and only narrowly missed out on the vote for best white wine.
Les Vignes de Bila-Haut Blanc, Maison Chapoutier (13%, 2018) Appellation D'Origine Protegee Cotes-du-Roussillon is an equal blend of Grenache Blanc, Roussanne, Marsanne and Macabeu. Produced by a prolific biodynamic wine maker, who has founded numerous estates in many countries and also introduced Braille to wine labels (at least those in the Rhone) this refreshing wine also benefits from a little touch of spritz!
Having thoroughly enjoyed the presentation and the white wines, Pippa then introduced us to the first of our reds.
Faugeres Lou Cazalet, Domaine Saint Antonin (14%, 2017) Appellation D'Origine Protegee Faugeres is produced from grapes grown in the schist soils of a high and rocky part of the Languedoc. The wines here have historically been very structured and quite tannic, and this wine is no exception. Made using a typical blend of 30% Grenache, 30% Carignan (a varietal with quite pronounced tannins), 20% Syrah and 20% Mourvedre, it was a fresh wine, slightly bitter, with a hint of cherry. Although nice to drink now, Pippa suggested that it could age well for a couple of years.
Corbieres La Grande Cuvee, Co-operative de Castelmaure (14.5%, 2016) Appellation D'Origine Protegee Corbieres. This is one of the most famous appellations and one of the largest in France with more than 2,000 producers. This particular cooperative was voted France's best and this wine was produced in what was a "good year". A blend of 45% Grenache, 45% Syrah and 10% Carignan this was a warm, rich and smooth wine with a hint of oak.
Grenache Noir, Domaine Jones (14.5%, 2016) Indication Geographique Protegee Cotes Catalanes is 100% Grenache Noir and produced by English wine maker, Katie Jones, using old vine fruit from plots up to 100 years old. Gentle on the tannins, this wine was equally as popular with members as the Corbieres and both shared the vote for "best red of the month".