Not only did members enjoy several 'new wave' wines from Spain this month, we also welcomed Pippa as a new presenter to the Club.  Pippa is an AWE, WSET accredited wine educator and we certainly learnt a lot this evening about the changing trends in Spanish wine-making over the past 15-20 years; particularly in the north west (Galicia) for white wines and the north east (Catalunya) for reds and whites.  After a focus on varietals that most people are familiar with, e.g. Cabernet Sauvignon, it is the indigenous varieties, e.g. Garnacha and Palomino, that have gained traction with younger drinkers and winemakers.  These "wines without make-up" as Pippa described them, are guided to the bottle as naturally as possible!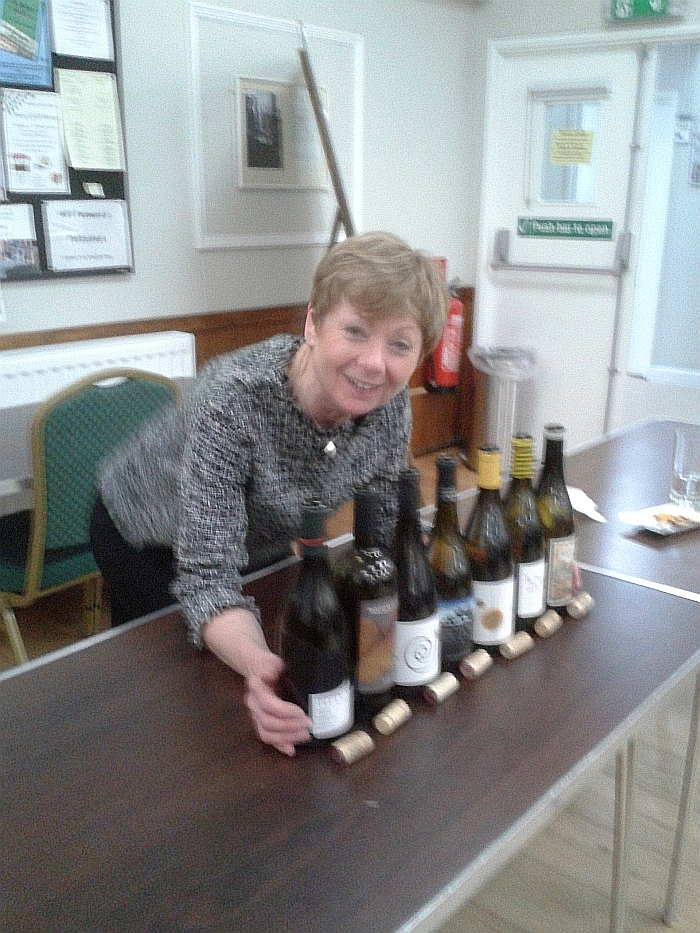 Laderas de Leonila (2017, 12.5%) Vin de Villa Bodegas Maquina y Tabla hails from the Bierzo region in the north west of the country and was our first white of the evening.  Made from Godello (a grape akin to Chardonnay), Dona Blanca and Palomino, many of us detected a hint of sherry – perhaps not surprisingly – and its lovely freshness can be attributed to the Dona Blanca.  The Flower and The Bee (2017, 13.5%) Bodegas Coto de Gomariz is an organic, though uncertified, wine made with 100% local variety Treixadura and using some biodynamic principles.  This was a softer and more fruity wine than the first and out of the three whites presented was the wine of choice, easily winning the vote for "white wine of the month".  The final white, Acustic Blanc (2016, 15%) Acustic Celler, was certainly a "big wine" and, with its little bit of new French Oak, makes a decent alternative to Chardonnay.  Made using Garnacha Blanca, a native to Catalunya, Macabeu, Pansal and Garnacha Roja, it is the Macabeu which brings the acidity to the blend.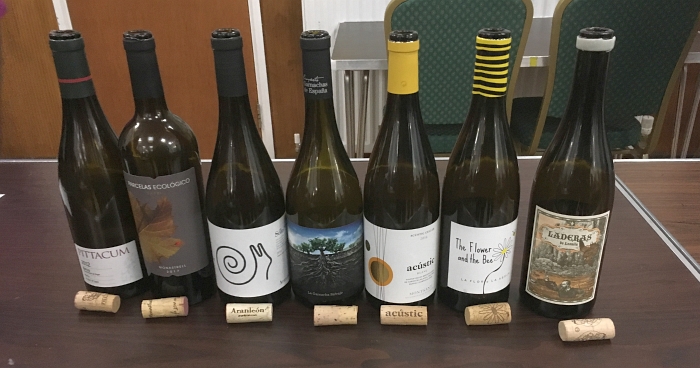 Pippa had selected four red wines for us to try and we began with Salvaje de Moncayo Garnacha (2016, 14%) a wine which is part of a Garnacha project, incorporating five different Garnachas in Spain.  Garnacha is the backbone of any Cote du Rhone wine and this particular Garnacha has undergone natural fermentation and benefited from 5 months in new French oak.  Light, with a fresh style this has more clout than a Pinot noir.  Our second red, made with 80% local grape varietal Bobal and 20% Syrah, the latter providing the acidity and tannins, had also benefited from time in oak; 11 months to be precise.  With its lovely spicy taste and wonderful label, featuring a snail chosen to represent the wine-making process, Solo Tinto (2016, 14%) Bodegas Aranleon, Valencia won the vote for "red wine of the month".  Wine number six, Parcelas Ecologicas Monastrell Barrica (2017, 14%) Bodegas Castano was another wine made entirely from a local grape; Monastrell, also known as Mouvedre in France.  This was less spicy than the former but was, like the Solo Tinto, another great example of an organic Spanish wine.  The evening finished with a tasting of Pittacum (2012, 14.5%) Bodegas Y Vinedos Pittacum, Arganza, a wine made with 100% Mencia grapes from 25-40 year-old vines.  The Mencia grape, which is similar to the Cabernet Franc grape, is reasonably acidic and can take oak well.  However, there is much less focus on oak today, which is possibly why this wine proved a little less popular in the voting compared with the other reds.  Nevertheless, this wine rounded off what had been an excellent evenings presentation and superbly hosted by Pippa.