Our garden meeting for July attracted 33 members, who enjoyed wines to remind them of holidays in Spain. Unfortunately, nobody took a picture, so here is one of several club members enjoying a real picnic in Spain.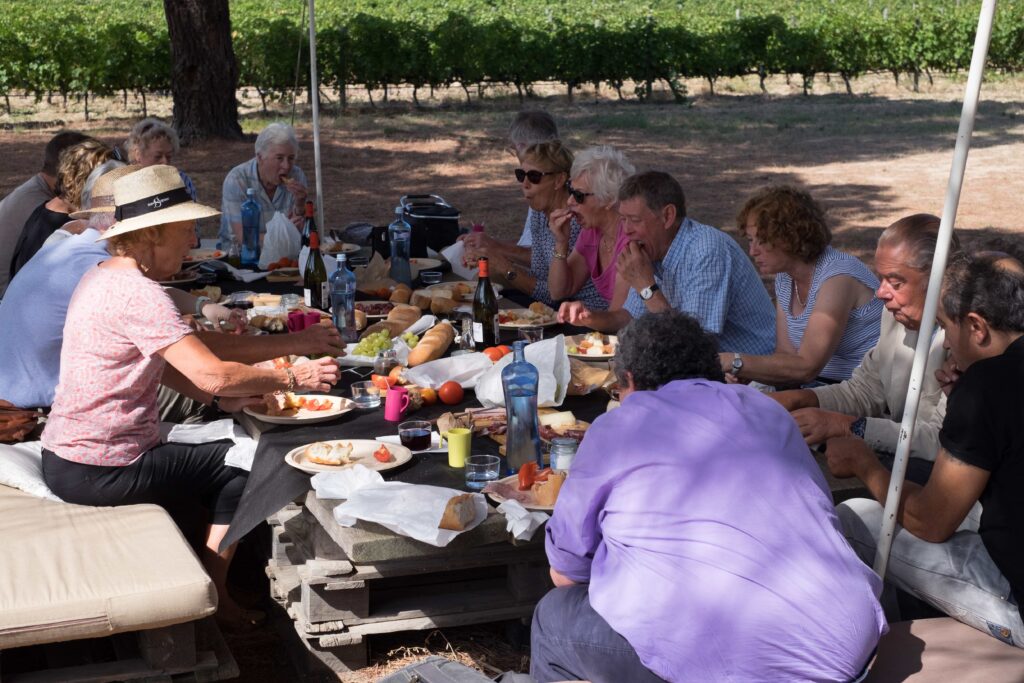 We drank three excellent wines to remind us of Spain – a fizz, a white and of course a Rioja. the wines were supplied by Majestic, and were enjoyed by our members. They were:
Freixenet 'Cordon Negro' Brut Cava (11.5%) £13.99 (£11.99)
We had to start with a good Cava. Our wine, Cordon Negro, was featured in BBC's Best Cava 2019. It's the masterpiece of Freixenet, known the world over for its iconic black bottle. Made in Penedes from the Macabeo grape, using the same technique as Champagne, it has crisp with notes of apple, pear, lemon and ginger. Majestic suggest that we drink with grilled asparagus!, more conventional matches are Manchego and pork scratchings.
The Guv'nor Rosé (13%) £8.99 (£6.99)
In Spain as in France, regions and appellations have rules to protect their brand and to produce consistent flavours and qualities. While there are good reasons for this, it is possible to ignore these restrictions and produce interesting and enjoyable wines, but you must not claim them to be from the region or appellation. The Guv'nor range sold by Majestic ignores the region and rule-based restrictions, and goes further by combining wines from different regions across Spain. The rose is a blend of Garnacha, Bobal and Tempranillo grapes. Each of these varieties comes from a different area and has a unique identity. With skilful blending the result is a delicious and reasonably priced wine.
Definition Rioja Reserva 2016 (14.5%) £13.99 (£11.99)
La Rioja Alta is the definition of a traditional Rioja producer. Founded in 1890, it is still run by descendants of the five founders and prides itself on its traditional style. They employ their own cooper to make barrels, every single grape is picked by hand – the wines are even hand-racked by candlelight in the cathedral-like cellars beneath Haro's cobbled streets. But they also blend their traditions with top-notch modern science. The wines command a premium price, but in this case using Majestic's Definition brand (and purchasing power) the wine has quality at a reasonable price (about half the price of a branded Rioja Alta Reserva)
Our members enjoyed all the wines, and the best wine was a close tie between the Rose and the Rioja.