After cancelling all our meetings from March onwards, as required by the Covid-19 rules, we saw that we could meet in groups of no more than 6 in members gardens for our July Meeting. We chose to hold the meeting on the regular date, July 13th, but offered members the choice of an afternoon meeting (the most popular choice) or an evening meeting. We felt that the Club's financial position would allow us to make no charge for the evening, and we gave our wine supplier for the evening, Excellar of Ashtead, a generous budget to select three interesting wines for this special occasion – a fizz, a white and a red. Each garden would be supplied with a bottle of each.
We sat outside, respecting the social distancing and hygiene regulations as required.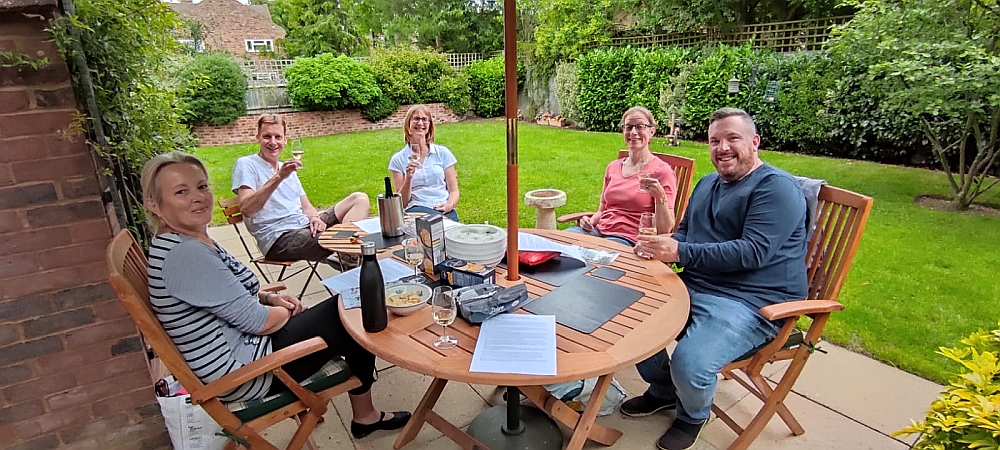 Feedback from the members has reassured us that everybody enjoyed the wines and the chance to meet at least a few of the other members. Thanks must go to the six members who hosted a meeting in their garden. The hosts were Committee members apart from Peter and Jan Clarke who stepped in to offer their garden at short notice.
The three wines were:
San Pietro Brut V S
From Southern Piedmont, it is made in the traditional manner from Cortese and Chardonnay grapes. It is organic, using natural yeasts. We generally felt that it lived up to expectations of a nicely balanced attack with elegance and fruit flavour. At least some of us agreed with the claim that it was more than a match for better blanc-de-blanc champagne. The price was £22.99.
Saint Veran Maison Auvigue 2016
From the Macon area, this wine is made by the Auvigue family using Chardonnay grapes and traditional Burgundian methods to give a rich and round palate after oak-ageing, and with lively fruit flavours. Some gardens felt that this wine missed the character of a good Burgundy white – but at least one garden voted it their top wine. The price was £21.99.
Domaine des Marrans Chiroubles 2015
Good Beaujolais is now back in fashion, the market having moved on from "Beaujolais Nouveau", so that good wines can reflect the style of their appellation. Chiroubles, from the North of the region, has a reputation for turning its Gamay vines into deep rich wines. This wine was very much liked by our members for its fresh and "crunchy" style, being selected as wine of the month in most gardens. Priced at £19.99 it offered a lot more than a budget generic Beaujolais.