Sadly, this year was not our usual December festivity! We were determined to do our best to celebrate, and in the circumstances we could only offer garden meetings for up to six hardy souls. David Fulton as usual sourced some interesting wines, and Roger Stafford organised the brave members into two groups of five.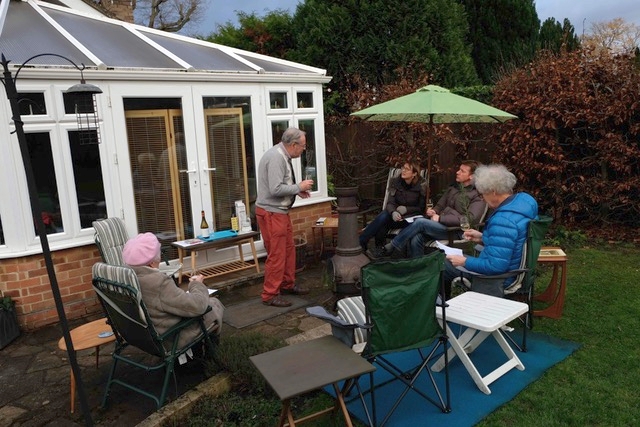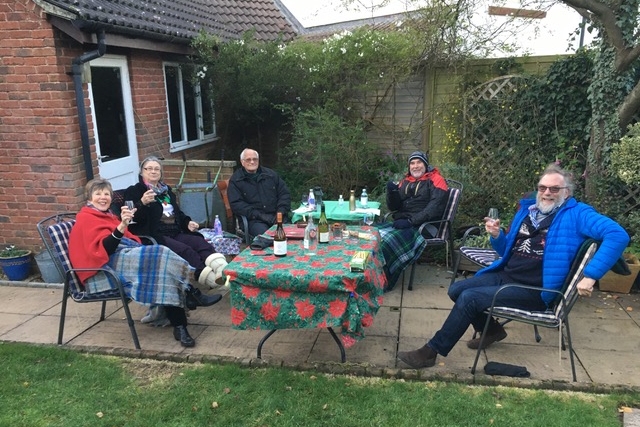 The weather was not too bad,and having wrapped up well, we could taste three wines, and a Christmas special. The wines (except the Sauternes) were from Majestic, and were very good – interesting, enjoyable, and well priced.
Ventozela Alvarinho (12.5%) Vinho Regional Minho (£11.99/£9.99)
This was a crisp white wine from Portugal. The makers say that complexity and depth are added by ageing in oak barrels and time spent on the lees. Certainly it did have interest and good length, and was felt to be excellent value.
Definition Chablis (12.5%) (£16.99/£14.99)
The "definition" range of wines are Majestic's premium own label. "Definition sets out to capture the quintessential qualities of the world's greatest wine styles. If you want to meet the most famous and revered styles, regions and grape varieties then this is the place to start." For their Chablis they went to a winery that has owned vineyards in the region for over 200 years. Its fresh minerality was very noticeable and enjoyable.
LB7 Reserva (14%) Vinho Regional Lisboa (£11.99/£9.99)
Back to Portugal for one of Majestic customers' favourite wines. A blend of Touriga Nacional, Shiraz and Alicante Bouschet, it was as promised smooth with soft tannins and hints of vanilla. Perhaps misled by the club's habit of serving the most expensive wine last one garden expected to pay more than the £9.99 for this. Both gardens gave this wine high marks
Sauternes 2017 (13%) (£14.95 half bottle)
From Vineyards Direct specialise in supplying wines from great estates that cannot be sold using the name of the estate because of appelation restrictions or because of marketing policy, However, broad hints are usually dropped as to the origin and this is said to be "from the greatest Sauternes Chateau which exists with fabulous fruit and complexity". It was very enjoyable with the hot mince pies that both hosts provided.