Once more we held a garden meeting, but as the Covid restrictions were relaxing, we now arranged meetings of up to eight in a garden – which gave us the opportunity of trying four wines (still not the six that are usual in our normal meetings, but better than the three we offered when meetings were restricted to six members). The lucky winner of the raffle held in each garden could enjoy a fifth wine. Continuing our theme of remembering summer holidays abroad, this time we visited the wines of Portugal.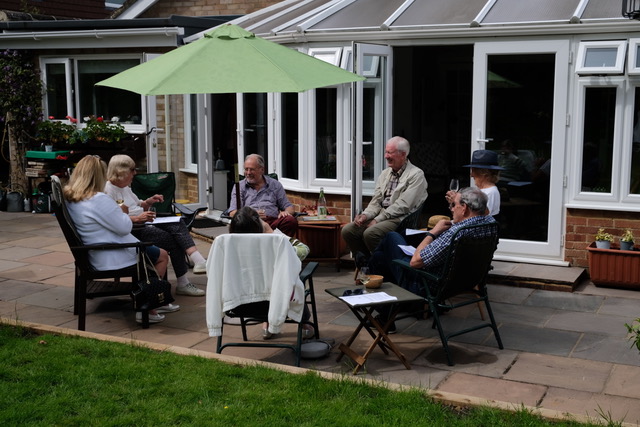 The weather was not its best for our meeting, but we still enjoyed ourselves. Some members had actually got away for a holiday, but we still had 38 attending meetings in five gardens.
It was not easy to obtain a good representation of Portuguese wines, but we turned to the Wine Society who are the International Wine Challenge 2021 Specialist Retailer of the Year for Portugal. Even there we had problems as the sparkling wine that we had ordered was held up in Customs. At the last minute, David Fulton our Chairman and master of the wine list, had to find a replacement – see below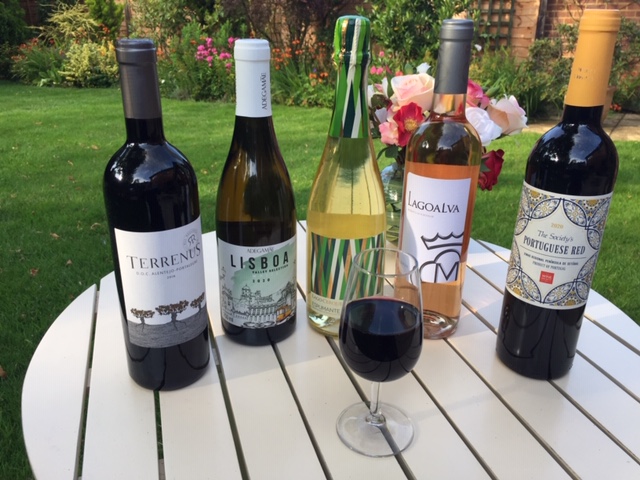 The wines were:
Espumanto De Vinho Verde (12%)
To replace the wine from the Wine Society, we offered this wine from Aldi (whose web ordering service worked well). This had a pale lemon colour with persistent effervescence. Generally a fresh aroma with floral notes said to be peat, green apple and light tropical flavours. Our members thought this was a pleasant, but not a great wine, but they were very impressed with the price of £6.79.
Quinta do Lagoalva Rose 2020 (12%)
This was a blend Syrah and Touriga National grown in the sandy soils of Lagoalva, north east of Lisbon. It had been selected as a "Champion" in the Society's blind tasting this year. Their tasters were impressed by its dry, grapefruit- like flavour and herbal, peppery notes. They said this was a combination rare to find in a wine at this price. It is certainly not you would expect from a typical rose. As so often happens, our members reaction was varied. One garden made it their clear favourite, one other made it their clear last choice. Even more puzzling was one garden which gave it low marks then selected it as their favourite. Perhaps the serving temperature made a difference, or even the effect of the rather dull day. From the Wine Society, this sells for £7.95.
AdegaMae Lisboa Valley Selection 2020 (13%)
A blend of Alvarinho, Arinto, Sauvignon and Voisinho, this dry white was made with the help of local maestro Anselmo Mendes. Lisboa is a large, coastal region that runs north from Lisbon. Atlantic breezes help cool the vineyards and maintain the fresh acidity and aromatics in the mostly white wines. North of Bucelas, on the Atlantic west coast lies the strip of rolling countryside that contains nine separate DOCs under the umbrella name of Lisboa. The Wine Society says it has touches of tropical and ripe stone fruit complemented by hallmark freshness and balance. It then matches it with Dim-sum, Gazpacho, Herring, Mackerel, Pasta Vongole, Prawns, Spaghetti Puttanesca, or Tuna. Sadly, we did not have time to try all of these! This wine was generally liked, and was the favourite wine of one garden. The price was £7.95.
Terrenus Tinto Alentejo-Portalegre 2016 (14%)
This was a powerful food-friendly red. A blend typically of Aragones, Trincandera and Alicante Bouschet and possibly "other native varieties" having spent fourteen months in French oak barrels and at least ten months in bottles. This was another of the Wine Society's champions – a little more expensive at £12.95. It was immediately appreciated by our members who were waiting for a red – it was welcoming and showed an excellent balance. We thought the best matching was another bottle of the same, but sadly, the Wine Society has run out of stock! Voted best wine in two gardens, only one garden did not give it a high mark.
The meeting ended by offering a bottle of the Society's Portuguese Red as a raffle prize.