It is always a pleasure to welcome Angela to the Club and this month's presentation proved to be as interesting and enjoyable as her previous visits.  Rather than focussing on wines from a specific country or region however, Angela had chosen six wines to highlight some of the key changes occurring in the wine-making World; notably, the trend for greater sustainable production and shifts attributed to climate change.  Admittedly production has been moving toward greater sustainability for some time, both in the vineyard and the winery, with many producers choosing organic and biodynamic routes. Most of the wines tasted this evening were produced using one or both approaches, reflecting the consumers need for greater transparency. Higher than average temperatures in many wine regions are also causing moves to cooler climates, e.g. in Chile there is more focus in growing in Southern regions and in Australia, growing has also moved into Tasmania.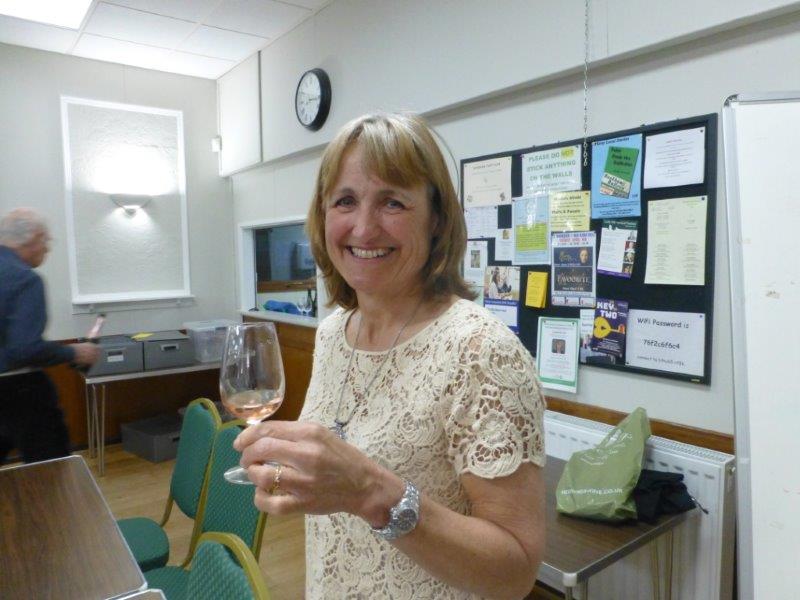 Wine 1:Graham Beck, The Rhona Rose NV (12%). From the Western Cape in South Africa, this wine is an almost equal blend of Chardonnay and Pinot Noir and, with a fine mousse and red berry flavour, was a rather nice way to commence the tasting. Although Prosecco is the biggest selling sparkling wine in the World, sparkling and rose remain a huge growth area in wine. "White wine of the month"
Wine 2: Stopham Estate Pinot Blanc (2015, 11.5%). English sparkling wine, renowned for its freshness and vibrancy, has done remarkably well in recent years snapping up 9 trophies for best sparkling wine and 6 for best sparkling rose since 2000; a feat that no other country has managed to achieve.  Stopham, based in West Sussex, also produce sparkling wine but their focus is now on still white wine and those made from Pinot Blanc and Pinot Gris. This Pinot Blanc is the driest wine they produce and was a very close second to Wine No 1 for 'white wine of the month'. Interesting fact: this wine appeared on the wine list of the barge for the Queen's Diamond Jubilee celebration.
Wine 3: Alphabox & Dice Golden Mullet Semilion Viognier (2015, 13.7%). This wine is a less usual blend of Semilion (70%) and Viognier (30%) from McLaren Vale, Australia. It's also an example of an "orange wine", a white wine made more like a red wine involving the skins and oxygen. This particular wine is made by a small company that has set itself up to do experimental wine-making even though the technique itself is old. Its rich, full-bodied and can be cellared up to 10 years.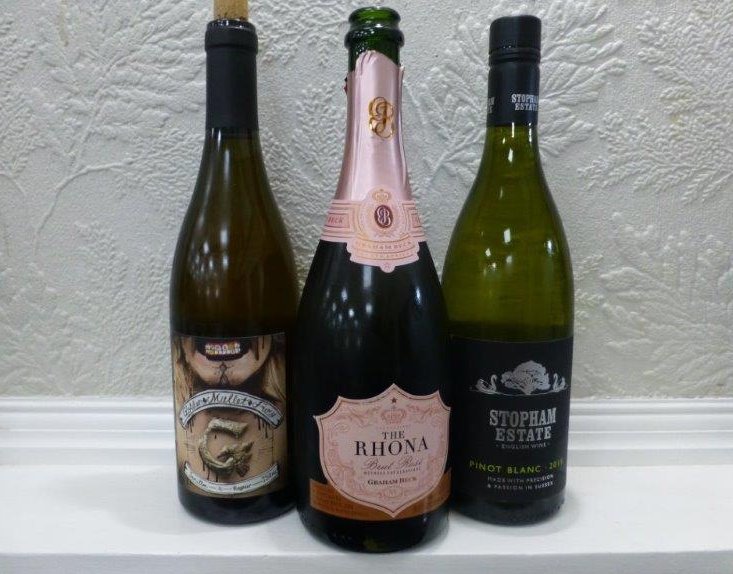 Wine 4: Xinomavro Jeunes Vignes Thymiopoulos (2017, 13%). This is a biodynamically produced Greek wine made by the "master" of the Xinomavro grape varietal, Apostolos Thymiopoulos. It is considered a good red wine by Jancis Robinson and Angela.  As is becoming the trend elsewhere, there is a shift away from oak and a focus on bringing out the fruit flavours of the grape here.
Wine 5: De Martino Old Vine Cinsault (2016, 12.5%). From the Itata Valley in Chile, this wine comes from one of the most southerly wine regions in the country. These regions are becoming more prominent due to the declining levels of rainfall in recent years. De Martino are organic wine producers, originally from Italy and are the 2nd largest organic producer in Chile; this particular wine is fermented in stainless steel and amphorae pots which allows some oxygen in to the process. This was a very pleasant, velvety wine.
Wine 6: Mas del Perie Les Escures (2017, 12.5%). A modern approach to Malbec; biodynamic, fermented in concrete, not oak-aged and low in sulphites. This wine, from Cahors in the Occitanie region of southern France, delighted members with its excellent colour, flavours of parma violet and hint of liquorice. "Red wine of the month"and "Best overall wine"