Mislav Kapetanovic made a welcome return this month, after a short interval to present a selection of Austrian white and red wines. Although the country's wine reputation has suffered in the past, today's producers are priding themselves on the quality of their wines, something members put to the test and were pleasantly surprised by, during the course of the evening.  In fact, we learned that Austria's Institute for Wine, is one of the oldest wine schools in the World having been established approximately 158 years ago.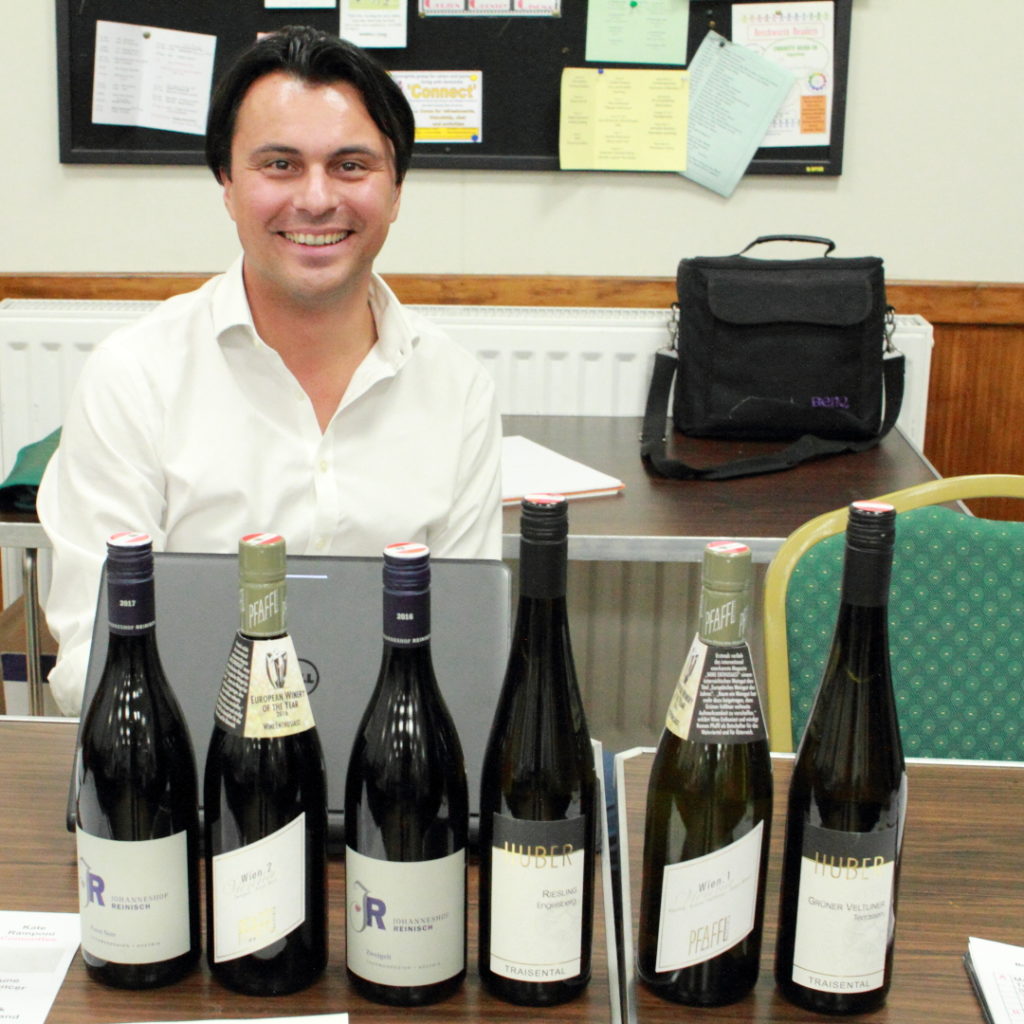 Perhaps not unsurprisingly, our tasting began with a Grüner Veltliner (the signature grape of the country) the wine that most people associate with Austria and which is generally considered to be its flagship. The Huber Grüner Veltliner Terrassen 2017 (12.5%) had a modern style, fresh but with a touch of sweetness, which Mislav suggested would pair well with Thai curry.  Our next white, the Riesling Engelsberg 2017 (12.5%) also from Huber was fruitier, but equally delightful. Our final white wine of the evening, Pfaffl Wein 1 Vienna 2017 (12%) was an equal blend of Riesling, Grüner Veltliner and Pinot Blanc; a light, fragrant and easy drinking wine, designed to be drunk young. In Austria, it is only the grapes recognised by the Institute of Wine as quality grapes that can be used to make a 'gemischter' (blend) with the maximum permissible level of any single varietal limited to 50%. Having enjoyed all three wines, the vote for 'white wine of the month' was close, and ultimately was declared a tie between the Grüner and the Pfaffl.
For a country that grows mostly white varietals (a total of 22) it came as a rather unexpected revelation (at least to the author) that it is also home to 13 red grape varieties.  Of course, the climate limits what can be grown in Austria, the reds can never be as "punchy" as from Argentina and the highest ABV one can expect is 12.5%.  Nevertheless, Mislav provided us with 3 excellent reds to sample, as examples of the refined style that producers here aim to develop, and we commenced with the RJ Zweigelt 2017 (13.5%).  Zweigelt is the product of a cross between the Blaufränkisch and the St. Laurent (a little like Syrah) grapes and this very pleasant wine, which has benefitted from 12 months in oak barrels, won the 'red wine of the month' vote, albeit only narrowly.  Close on its heels was the lovely Pfaffl Wein 2 2017 (13.5%), a blend of Zweigelt and Pinot Noir, which had a lighter style and soft tannins. Our last wine of the evening, the Johanneshof Reinisch Pinot Noir 2017 (12.5%), is produced from grapes cultivated only on the best locations in the vineyard and had a touch of soft fruits and round tannins.
With its small vineyards and challenging conditions, wine making can be difficult in this country and inevitably results in more expensive wines, but with its focus on quality, some excellent terroirs and white wines, as well as an improving reputation for red, Austrian wines are certainly worth looking out for.