The Club was very pleased to welcome Lits back to present a selection of 6 delicious Greek wines this month, all of which were produced by boutique wineries across the mainland and the islands. In fact, as Lits explained, Greek vineyards are all small, fragmented plots commonly found in coastline locations, so none of the wines are ever produced on a large scale. This may also account for the rather large number of wineries (>1,000) as well as the number of wine-growing regions (120) and grape varieties (>300).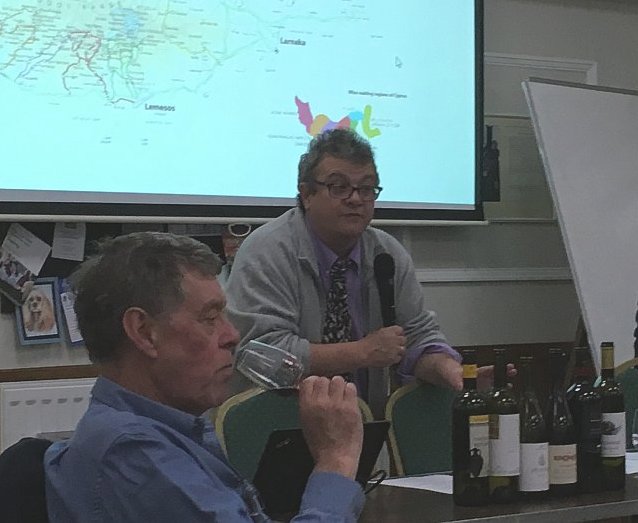 The first wine of the evening took everybody by surprise; Tetramythos Retsina (12.5%) is a Retsina unlike any Retsina anyone had tasted before. This crisp white wine with long after taste and subtle hints of pine (from local pine trees) hails from the oldest wine growing region in Greece, the Peloponnese, and is matured in traditional amphorae with actually very little resin. Our second wine, Karamelegos Santorini (13.5%, 2016), is one of Lits' favourite white wines. With "huge acidity", it also proved popular with members, winning the vote for white wine of the month. Trained to grow in basket-shaped bundles to protect the plant and conserve as much moisture as possible, the pictures of the vines were truly amazing to see. The final white of the evening was produced in Cyprus from the Xynesteri grape, which is almost unknown anywhere else and historically was always used to make sweet wine known as Commandaria. Kyperounda Xynesteri (13.5%, 2017) is also produced by Europe's highest winery, sitting at 1400m above sea level.
Our first red wine, Thymiopoulos Maoussa (13%, 2017) is made from a classic grape variety from the Naoussa region of Northern Greece and has been compared to Nebbiollo by some. A difficult grape, Xinomavro is tannic with a thick skin. The producer uses young vines in order to produce a delicious 'young wine' with strawberry fruit flavours. Moraitis Paros Reserve (13%, 2013) on the other hand, our second red of the evening, was a mature wine from the island of Paros and is the only PDO wine produced from a blend of red and white grape varieties. This wine had spent 24 months in oak barrels and a further 12 months in the bottle.  And finally, the winner of our red wine of the month, Tsiakkas Vamvakada (14.5%, 2015) was a rare, rich wine produced by an artisan winery in the Troodos mountains of Cyprus. This wine had a fruity nose of spicy currents with vanilla undertones, and members enjoyed its suave tannins and long finish.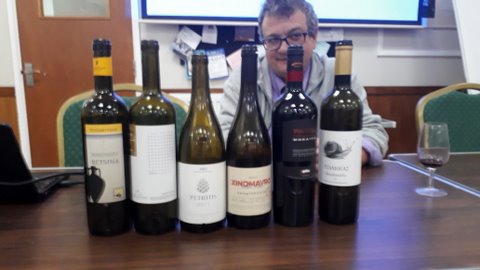 Interestingly, most of the producers in Cyprus have moved from the coastal plains to the Troodos mountains in recent times. As Lits explained, Cyprus produces every possible style of wine and even boasts 7 'wine routes', which no doubt will add to the island's attraction as a holiday destination!