Members enjoyed an extremely well planned and interesting presentation on a selection of Australian wines tonight, courtesy of long-standing member and wine aficionado, Eric Martin. Recently returned from a trip to Australia, Eric also delighted everyone by sharing some of the photos taken during his visit. The wines, 3 white and 3 red, were all from the South Australian wine regions (where the climate is cooler) and Eric had thoughtfully designed a clever leaflet, complete with image and tasting details of each wine as well as a list of other popular Australian wine types.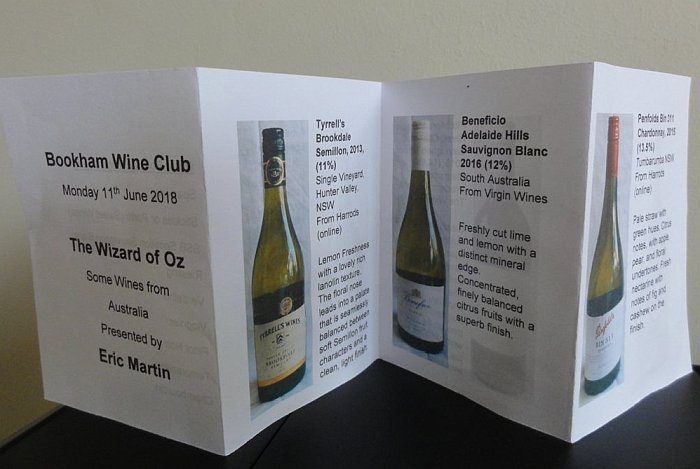 Although a 'New World' wine producing country, Australia has over 200 years of viticulture and wine making expertise and our first wine of the evening comes from one of the oldest producers in the country, having been established around 1858. Tyrrell's Brookdale Semillon (2013, 11%) is an entry level wine with 4 gold and 5 bronze medal awards. With a floral nose, fruit characters and a clean light finish this was a great wine to start with.
Our second white wine, Beneficio Adelaide Hills, Sauvignon Blanc (2016, 12%)is wine maker Steve Grimley's "Aussies having a go" at this wine variety. Adelaide Hills is one of the major growing areas in the country and, with its steep rocky hillsides and cooling gully breezes, it's probably fair to say that this wine could give the New Zealand version a run for its money without actually tasting like one! This wine was very popular with members and won the vote for 'White Wine of the Month'.
An Australian wine tasting wouldn't be complete without a Chardonnay and Eric had selected Penfolds Bin 311 Tumbarumba Chardonnay (2015, 13.5% )for our final white. The first vineyards were planted in Tumbarumba (the noise made by kangaroos stamping on hollow ground!) in 1982 and are split evenly between Chardonnay and Pinot Noir. Penfolds, established in 1844, is a major vintner producing wines all over the country and its renowned 'Bin' series was created in 1959, and reflects their meticulous winemaking approach. This wine was no exception; with citrus notes, floral undertones and a fresh finish, it was a very pleasant Chardonnay indeed.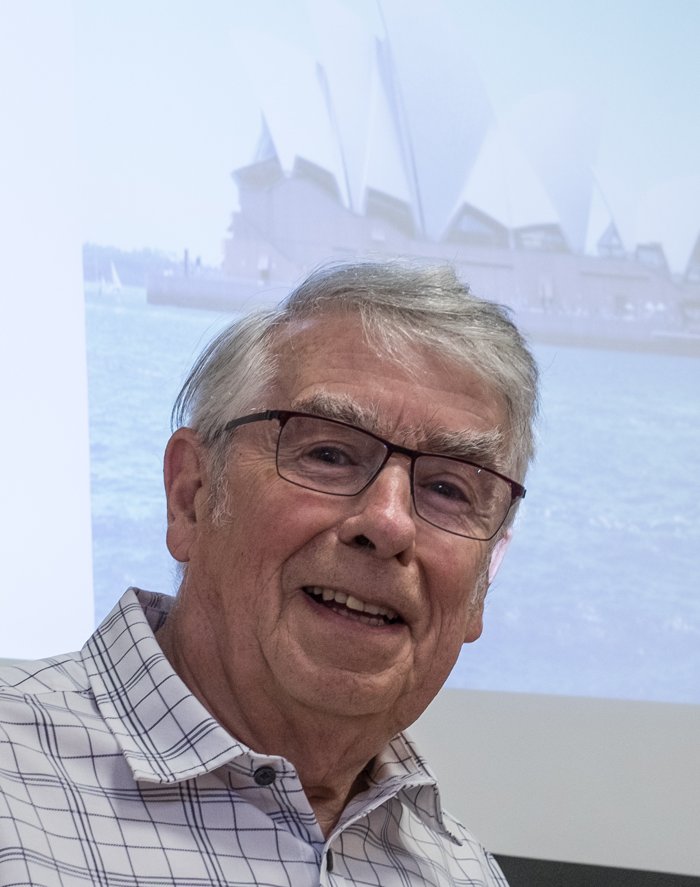 The McLaren Vale is home to some of the oldest Grenache vines in Australia. Our first red wine of the evening, Beneficio Winemakers McLaren Vale Grenache Shiraz (2016, 14.5%) was a rich, juicy wine which would pair well with barbequed food.
Next up was the Pitchfork Margaret River Cabernet Sauvignon Merlot (2015, 14.5%) which had a lovely berry fruit nose and appeared to be preferred by many to the previous wine. The climate of Margaret River has the strongest maritime influence compared to any other major region and, overall, is similar to that of Bordeaux (in a dry vintage).
However, it was our final wine of the evening which won 'Red Wine of the Month' and 'Best Overall Wine of the Month'. Albacore Longfin Shiraz (2015, 14.5%)was another delicious wine produced by wine maker, Steve Grimley with grapes from McLaren Vale and the nearby Barossa Valley, one of the largest producing wine areas in Australia.