Members were treated to a very different tasting evening this month with a presentation given by Ed Herzog (Ex Cellar – Ashtead) and Elliot Awin (ABS Wine Agencies) with introduction and fascinating anecdotes provided by long-standing club member, Michael Welford. Michael, a knowledgeable admirer of South African wines also selected the 3 white and 3 red wines included on the tasting list.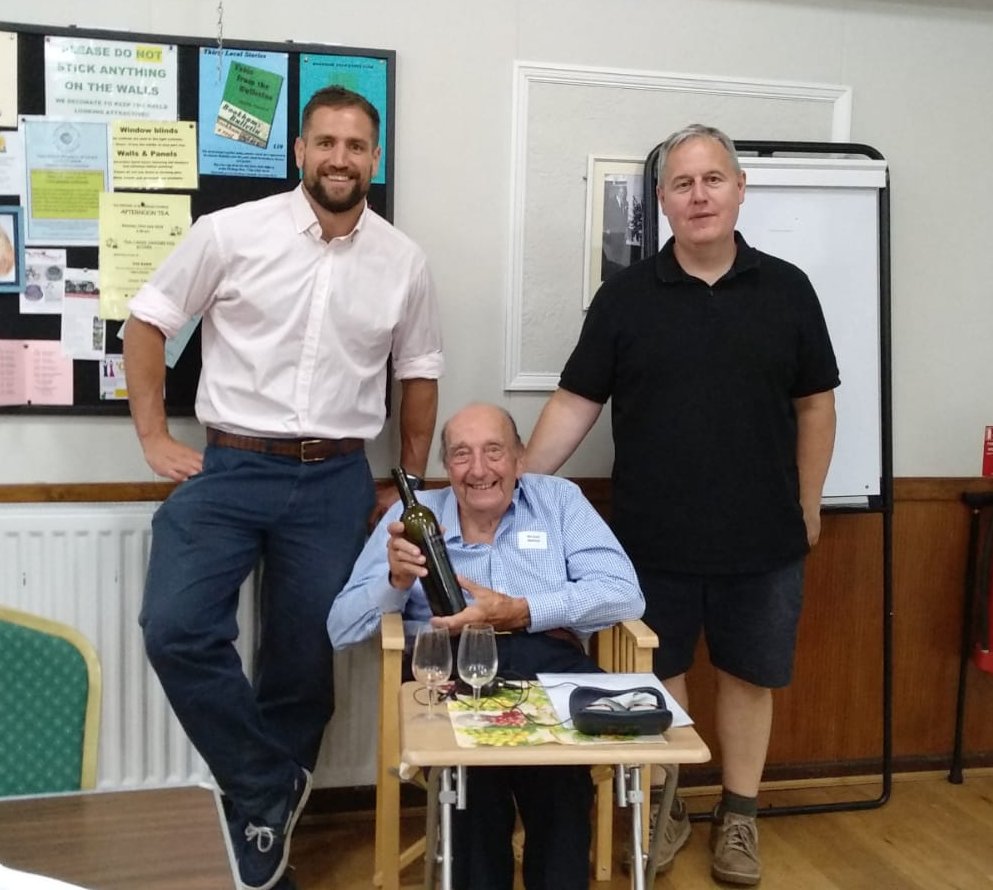 Many people assume that wine-making in South Africa is a relatively recent venture, but Michael quickly dispelled this misconception using a nutmeg! Cape Town was a key stop over point on the spice route and eventually the Huguenots settled around the Cape of Good Hope in the 17th century and from there moved to Franschhoek where the rest, as they say, is history. After receiving little attention during much of the 20th Century the country's wine industry began to improve following abolition of apartheid and changes relating to the governing KWV wine co-operative. It was further boosted when Nelson Mandela celebrated his release with a glass of Cape wine.
We began with the Zevenwacht Tin Mine White (2016, 14%), a beautiful blend of Chenin blanc, Chardonnay, Viognier and Roussanne which has been made by owners the Johnson family for 30 years. The warmer the year, the more Chenin the family add to the blend to maintain the right amount of acidity. Next came the Bon Courage Chardonnay (2015, 14%), a varietal wine with a little oak which was rather pleasant in the author's opinion. This was followed by our final white wine of the evening, Jordan's Inspector Peringuey Chenin Blanc (2015/16, 14%), from one of Ex Cellar's most important estates. Named after the University Lecturer who discovered that US vine stock were resistant to phylloxera, this wine came a very close second to the Tin Mine White in our 'White Wine of the Month' vote.
Our first red wine was another indigenous variety, Post House Mercury Pinotage (2016, 14%). This was an aromatic, spicy red with soft tannins and is a top seller for Ex Cellar. Black Magic Merlot (2014, 14%), our second red of the evening, is another top seller and was much admired by members for its deep style and smooth finish. However, it was the third and final red which narrowly scooped the title, 'Red Wine of the Month'. Adoro Red Blend (2007, 14%)was a wonderful blend of Cabernet Sauvignon, Shiraz, Merlot and Mourvedre; a blend of different terroirs which the wine maker doesn't release until at least 5-7 years old. This was indeed a lovely wine with which to finish a super evening.
All wines supplied by, and available from, ExCellar, Craddocks Parade, Ashtead.