This was Nina Cerullo's first visit to the Club and members certainly hope it won't be her last!  A wine educator, who has been presenting and lecturing in wine since 2001, Nina's aim was to provide us with an up to date overview of wine production in Bordeaux using blind tasting to remove any (out dated) preconceptions.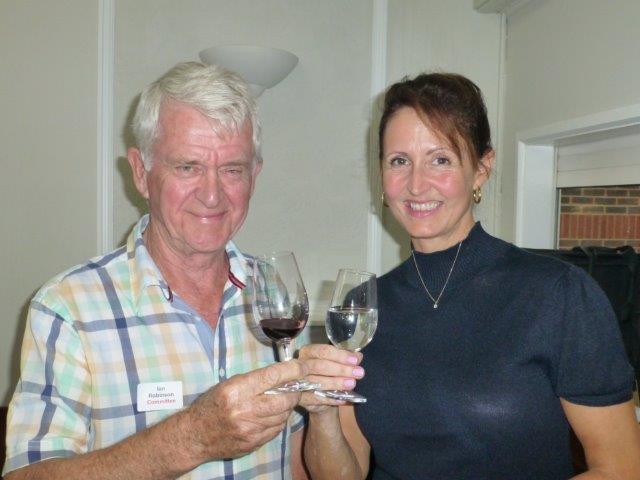 As usual, we commenced with the white wines, of which there were two (only 20% of production in the region is white) both made from the Sauvignon Blanc grape.  Nina shared several interesting wine facts with us as we enjoyed first, a Grande Cuvée from Dourthe 2017 (12%), followed by a Château de Cruzeau 2015 (13.5%)from the Pessac-Leognan region.  Fermented in stainless steel, the Dourthe was fresh, zesty and lively with a good acidity, whilst the barrel fermented (but not in new oak) Cruzeau had more depth of colour, a creamy nose and some citrus flavours on the tongue.
 Interesting Bordeaux Wine Facts:
Bordeaux produces everything!  But there are 6 categories of wine in Bordeaux: Red, Claret, Rosé, Dry white, Sweet Bordeaux and Crémant.
The main Bordeaux white varietals are Sauvignon Blanc, Sémillon and Muscadelle, but watch out in future for the appearance of Sauvignon Gris (a consequence of global warming).
Wines from Bordeaux are designed to be enjoyed with food – Nina recommend soft cheeses with the whites and hard cheeses (including blue varieties) with red and dessert wines. The hard cheeses help draw out the tannins of the red wine.
Blending is common and catching on in places including the Napa Valley and in Argentina.
Moving on to the red wines, we began with an 'everyday' Bordeaux, a Château Les Martins 2014 (13.5%) from Blaye, Côtes de Bordeaux and subsequently enjoyed a Château Sissan 2016 (13%) from Cadillac-Côtes de Bordeaux, a Château de Colombe 2016 (14.5%)from Sainte-Colombe, Côtes de Bordeaux and a Château Fourcas-Borie 2010 (14.5%) from Listrac-Medoc. Nina also had a surprise for us … a lovely Sauternes 2013 (13.5%) dessert wine produced by Château Guiraud.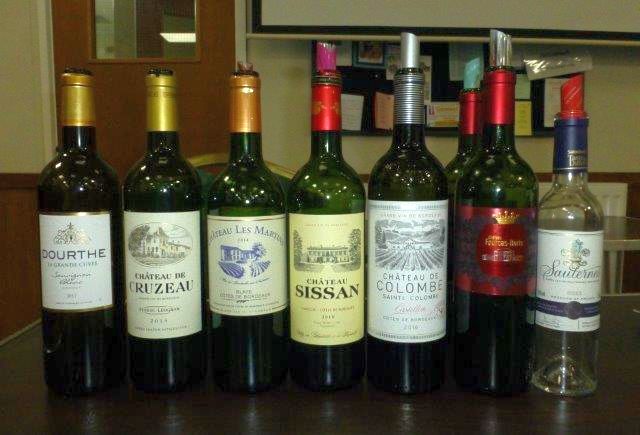 More Bordeaux Wine Facts:
Red varietals include; Merlot (70% of grapes grown), Cabernet Sauvignon and Cabernet Franc, but Malbec is also being grown by producers, again, a result of climate change.
If global warming continues apace, Merlot may lose its position as the predominant red varietal. Tempranillo is currently tipped to be the 'hot favourite' to replace it.
Merlot and Sauvignon Blanc wines produced in the Entre-Deux-Mers and Côtes de Bordeaux regions, situated between the rivers Garonne and Dordogne, can represent good value for money.Wines produced in the Côtes de Bordeaux are restricted in yield and follow strict productions rules so one can expect a higher quality product.
Bordeaux represents the largest AOC wine growing area in France, production is huge but consumption in the UK is relatively small, mostly because Bordeaux conjures up an image of costly red wines, quaffed by rich gentlemen. As Nina highlighted this evening, that image represents only 5% of all production in the region, the rest are easy drinking, modern and affordable. Not only that, members agreed they taste great too with the Château de Colombe and the Château Fourcas-Borie winning equal votes for the title 'wine of the month'.