Members enjoyed a very different tasting format this month via, "Vine to Bottle" presented by experienced wine educator, Keith Grainger. The aim of the evening, as Keith explained before we began a series of blind tastings, was to judge whether each of the carefully selected wines lived up to the method used to produce it, in terms of taste, quality and price.
Following a few pointers from Keith, members set about deciding whether our first wine was champagne, prosecco, French or English sparkling wine. With its bright colour (it wasn't destined to be dry), a creamy taste (indicative of the champagne method) and small bubbles, Keith confirmed that this was a French sparkling wine; a Vouvray AC Brut (Chateau Moncontour) produced from the Loire's indigenous Chenin Blanc grape, to be precise.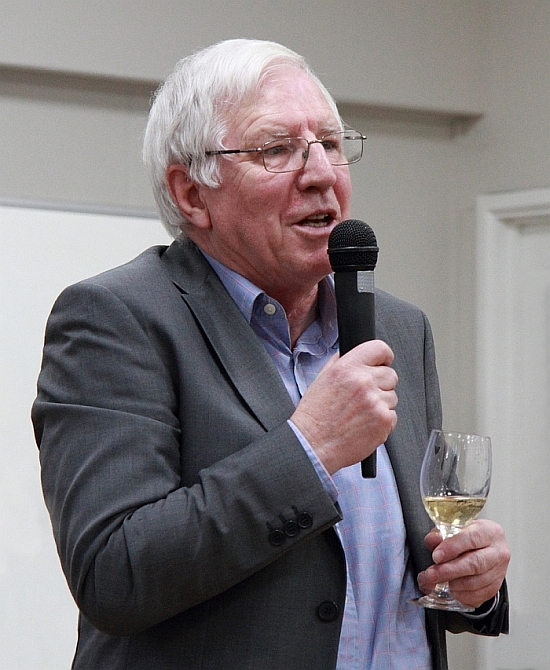 Temperature matters! White wines produced from grapes grown in a cooler climate tend to be more acidic compared to those produced from grapes grown in a hotter climate, with their softer, rounder and fuller flavour.  A cooler fermentation results in more fragrant aromas whereas a warmer fermentation leads to a creamier finish. According to Keith, new world wines tend to "scream primary fruit" whereas old world wines will be more toned-down. Our second wine, a Sauvignon Blanc from Bordeaux (Blanc Prestige de Calvet Cuvee Fume, 2015) was certainly a good example of the latter.
Careful decisions are taken by the vineyard owners at every step in the wine production process, including the planting. Even the orientation of the vineyard slopes and density of vines, influence the overall cost per bottle. Our third wine, a white Burgundy from Cotes de Beaune, proved to be the most expensive tasted all evening (at £28 per bottle) – the land in this region is expensive and the grower plants accordingly. This lovely wine easily won "white wine of the month" in the end-of-evening vote!
Our first red wine of the evening, Haut-Medoc AC (a Merlot-Cabernet Sauvignon blend from Bordeaux), was the most expensive red of the evening at £22 per bottle –  the result of a complex production process, including 18 months fermentation in French oak. However, it was red no' 2, 'The Fergus', that claimed the trophy of "red wine of the month".  Produced by Tim Adams in Clare Valley in Australia, from a blend of Grenache, Tempranillo and Malbec, this was a great red wine for a price tag of £10. With favourable growing conditions and with much of the production process done by machine (amongst other factors), this perhaps wasn't so surprising.
Last, but not least, the third red wine also proved popular in the tasting; only narrowly missing out on "red wine of the month" by a handful of votes. The production method was more complex compared to that of the second red, resulting in a higher cost per bottle (£15). This was the Rosso Verona IGT Masi Campofiorin (2013), produced in the Verditot area close to Verona.  As Keith explained, this is a good wine and 'Amarone-like', although not quite as good as an Amarone!
This had been a fascinating evening with some carefully selected wines to illustrate just how different production methods can influence the end product but, as Keith concluded, wine-making methods may come and go but location is the key and the "best wines are always made in the vineyard".