13th March, 2017: Enchanting Asia – Richard Bost
The club was delighted to welcome back Richard Bost this month to present a tasting including "new latitude wines", selected from a range of Asian countries.  What an interesting and enlightening evening it proved to be!  With his inimitable style assisted by an excellent slide show, Richard managed to provide us with 6 very different wines and an informative overview of wine production in Japan, Thailand, India and China.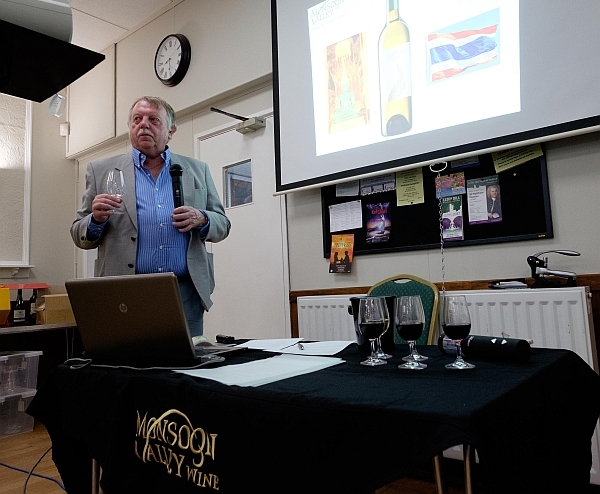 We started the evening with a Japanese white wine, Sol Lucet Koshu (2015), produced from the Koshu grape; the most important grape variety native to the country.  Although the art of grape growing is thought to have been introduced to Japan around 718 AD, it wasn't until 1874 that the first wine production began.  Now there are more than 145 wineries in the country but only 5 of these are responsible for the majority (~ 85%) of total production.  This very pleasant wine, available from M&S, was light, dry and fruity – the ideal accompaniment for Japanese foods.
Monsoon Valley is the largest wine producer in Thailand, owning 120 out of the total 150 hectares of vineyard in the country, and is the largest winery in South East Asia.  Although Thailand is new to wine production (the first wines were made by Monsoon Valley in 2002 and the Thai Wine Association was only formed in 2004), the two wines tasted proved popular with many of the members.  The Monsoon Valley premium Shiraz (2014), aged for 12 months in French oak, was a well-structured and easy drinking wine which, arguably, could be enjoyed very well on its own.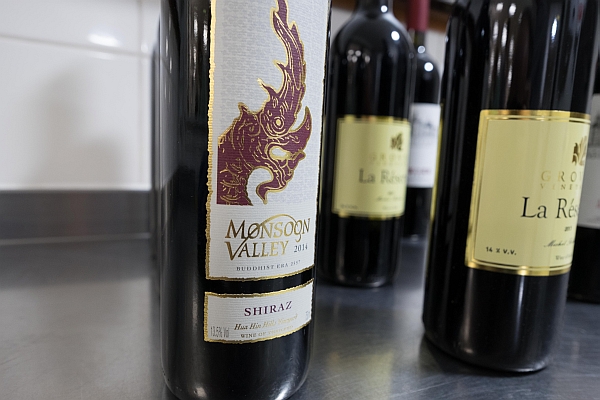 As is the case in Thailand, India enjoys a sub-tropical climate which means the vines are never dormant and there are 2 crops per annum.  However, the monsoon season dilutes the summer crop to such an extent that it is only the November-April crop that gets used to produce wine.  Unlike Thailand, there is evidence of wine-making here as far back as 1,500 BC although it wasn't until 1982 that wine production really took off.  By 2006, India had 23 wineries and the club had the opportunity to taste a white and a red from the Grover Zampa vineyards in Bengaluru.  The La Reserve (2013), made with 70% Cabernet Sauvignon/30% Shiraz and aged for 6 months in French oak, won a Decanter bronze in 2015.
The final wine of the evening, Changyu Moser Family Cabernet Sauvignon (2010), hails from China where wine production began as early as 206 BC.  Nowadays China boasts the World's 2nd largest vineyard area (after Spain) and was the 8th biggest wine-producing country in 2014, with more than 450 wineries.  This medium-bodied, dry wine and a treat at £19.95 per bottle proved to be a classic cabernet and rounded the evening off excellently.