English wine production has come a long way in recent years.  The fact that the South East has a "Wine Route" (courtesy of the South East Vineyard Association) which enables you to discover 34 vineyards across Kent, Surrey and Sussex, is an indication of the quality and increasing popularity of home-grown wines.  Local vineyard founder and owner Nick Wenman, from Albury Organic Vineyard at Silent Pool, was the host for our August meeting.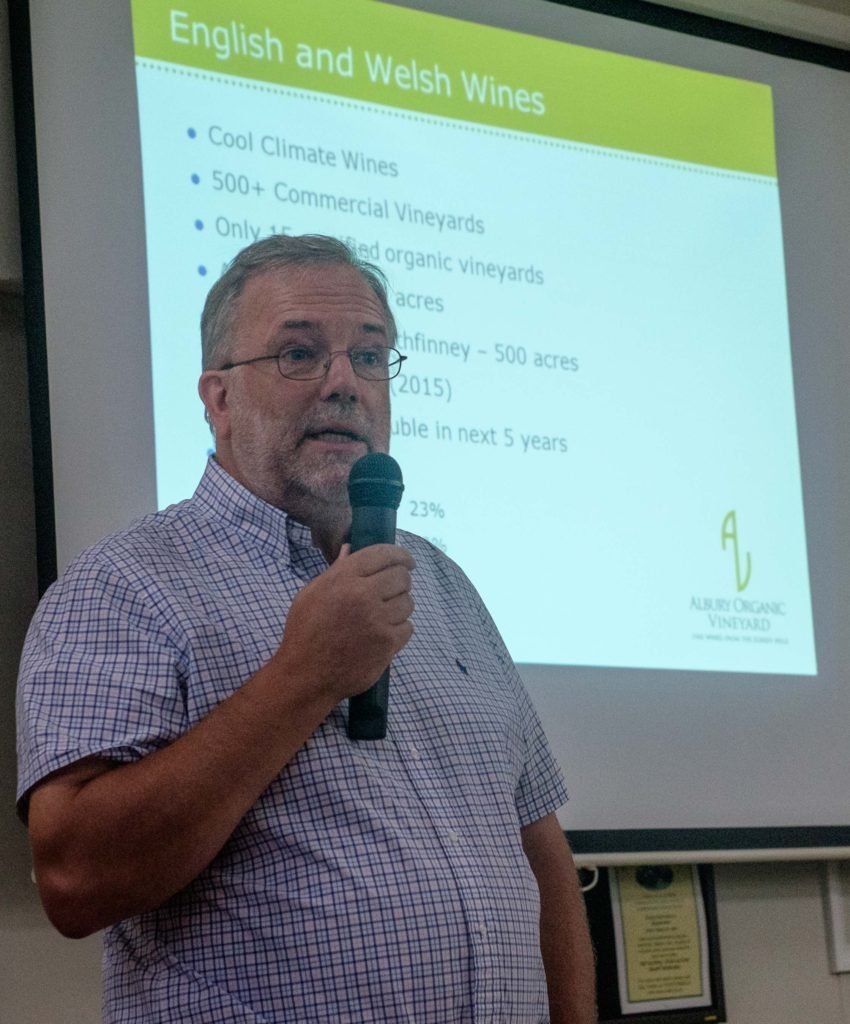 Perhaps unsurprisingly, English (and Welsh) wines are cool climate wines, produced primarily from the Chardonnay, Pinot Noir and Bacchus grape varieties which do well in our climate and soils.  Of more than 500 commercial vineyards in the country however, only 15 are certified organic.  Nick explained this approach is important to him and his team because, "we believe organic viticulture will produce better fruit and ultimately better quality wine".  This means that whilst natural biodiversity is encouraged, pesticides and herbicides are to be avoided.  Despite the challenges – the lower yields and the problems faced in combating weeds and disease – this tenet is paying off.  Established in 2009, the vineyard enjoyed its first vintage in 2011 and the awards for their organic sparkling and still wines have followed thereafter.
In an entertaining and highly informative presentation, Nick provided club members with a fascinating insight into the history of Albury Vineyard and the complexities of organic grape growing and vineyard management.  From planting 21,000 vines on the 12-acre site to employing biodynamic practices (such as using compost teas to improve the biology of the soil) and protecting the crop from pests including rabbits, deer, birds and early Spring frosts, there is certainly more to grape growing than meets the eye.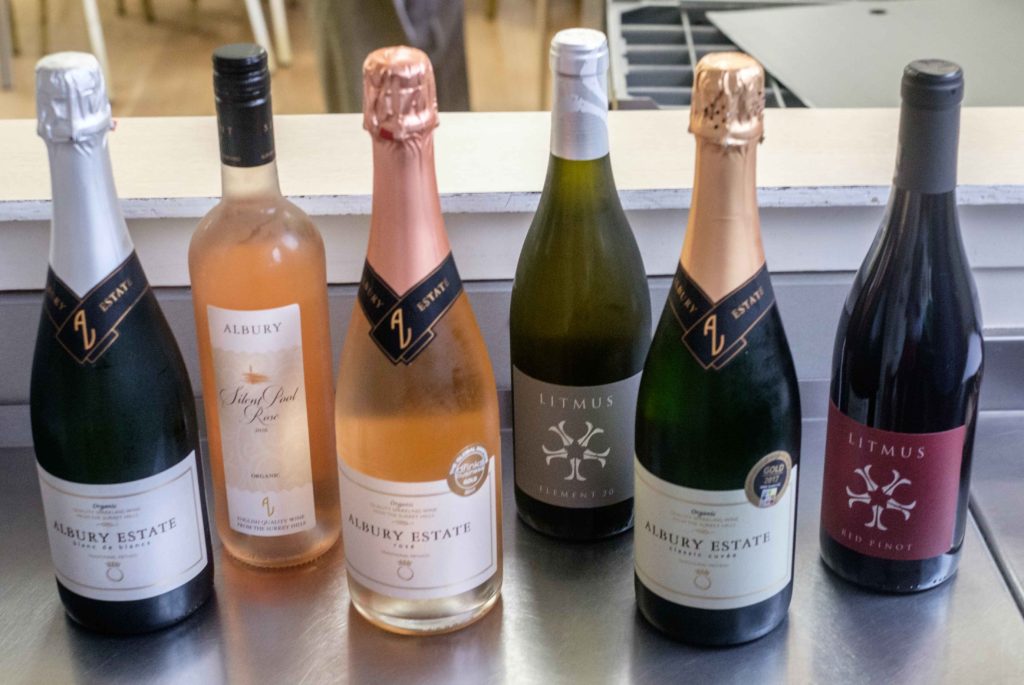 Members were delighted to be able to sample four of the vineyard's wines, three of which are sparkling wines and include the Albury Estate Classic Cuvée.  This is a stunning sparkling wine, fresh and lively, and was overwhelmingly voted as the club's 'wine of the month' at the end of the evening.  The second sparkling wine tasted, the Albury Estate Blanc de Blancs, is a blend of Chardonnay and Seyval Blanc; the latter varietal was selected for its disease and frost resistance which makes it ideal for the organic grower and for the conditions in this country!  With a fresh, crisp gooseberry palate, this sparkling wine is considered to be quintessentially English.  The delicious Albury Estate Sparkling Rosé and Silent Pool Rosé completed the Albury tasting.  Wines 5 and 6 were provided courtesy of Litmus Wines.  Located at Denbies, Litmus make wines and provide a contract winemaking service to other businesses, including Nick's.  Litmus Element 20 and Litmus Pinot Noir proved interesting and enjoyable choices, particularly the light but 'deep in colour' English red pinot.