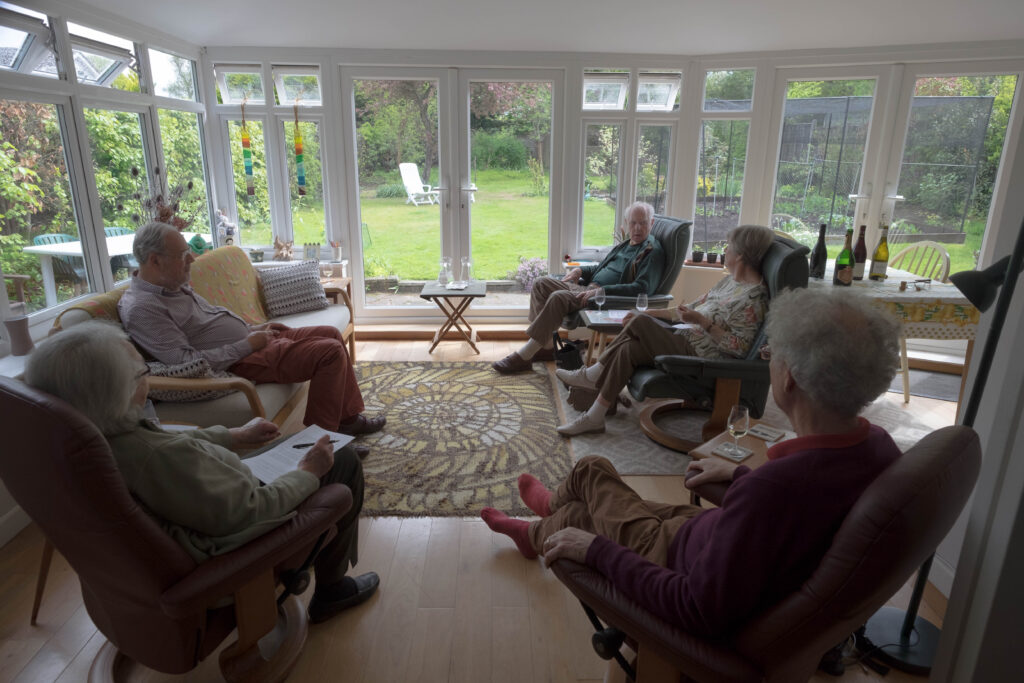 May meeting – garden meeting – France with Laithwaites
For our first garden meeting of 2021, the theme was "holidays in France" Three wines were made available for us to try in our group of six. The weather did not really cooperate, so most meetings were held in well ventilated indoor spaces. The wines came from Laithwaites in Surbiton, and David Fulton had negotiated special prices for the event, and for members to buy through the club. In our "summer holiday" format, the wines were a fizz, a white and a red.

Roche Lacour Cremant de Limoux Cuvee de Reserve 2016 (12.5%)
Made using the champagne method with a high proportion of Chardonnay. Oak fermented (just like Krug), aged in the bottle, and only just disgorged. It had superb fruit intensity, depth and freshness. This was the most popular wine in most of the gardens, and after sales were impressively high.

Domaine Gadais La Grande Reserve Du Moulin Muscadet Sevre et Maine 2020 (12.5%)
The domaine is south of Nantes, near the coast, to give this wine "a whiff of sea breeze" Muscadet is coming back into fashion after a period when it was regarded as cheap and cheerful. This wine is left for months on its fine lees to add creamy complexity to the bright apple, pear, and floral flavours.

Coeur de Granit Moulin a Vent 2013 (13%)
A Beaujolais which has had a little ageing to develop length and a savoury finish. The grapes are selected from the oldest vines grown on classic granite soils. The tasting notes promise intense ripe red and black berry fruit, savoury length, silky tannins.

Finally, each garden had a wine to raffle. The raffle wine came from the bin end selection which is a feature of the store. One winning wine had the unusual title of "don't tell Gary" from which it is easy to deduce that it was an Australian wine. The story was that Gary is the accountant who would not have approved of the care put into making this wine. At the time of writing, the bottle is unopened so we cannot pass comment.